Submit registration on link below:
ND AAUW Annual Meeting 2022
or Contact Michelle Fritz at mlfritz301@gmail.com or (701)230-3748
Friday Night, May 13th
Cabin 5 (C5)
5:30 PM Social
6:30 PM Awards Presentations
7:30 PM Review and update S.W.O.T. Analysis from Summer Boards
Saturday Morning, May 14th
8:00 AM Breakfast Cabin 5 (C5)
9:00 AM Zoom meeting Woodland Legendary Suites Meeting Room
Join Zoom Meetinghttps://us02web.zoom.us/j/6367861555
Meeting ID: 636 786 1555
○ National Representatives
■ Eileen Menton has been a director of AAUW's national board since 2017. She worked as a legal systems manager at the U.S. Justice Department and currently is a business analyst at the U.S. Consumer Product Safety Commission.  She was the president of the Virginia Glider Sleeve International Fund (now Women First International Fund), which provides grants for women and girls.  She is past president of AAUW of Maryland and of the AAUW Baltimore (MD) branch.
■ Cherie Sorokin currently serves as a director and secretary on the national board of AAUW, and as program chair for her local AAUW Marin branch. She has worked as a Spanish teacher (university, elementary, junior and high school levels), and lawyer and business executive (mainly at Bank of America). She currently consults on board governance with Veaco Group.  She's a published author of book and several treatises on corporate governance.    Cherie is a Life Member of AAUW and has been a member of branches in Indiana, Connecticut, and Illinois and California.
10:30 AM Break
10:45 AM Break out groups discussion – Rally ND AAUW
Lunch
1:30 PM Feedback from group discussions
2:45 PM Plan of Action
4:00 PM Business Meeting
Supper (no host) After Business Meeting
Tentative – Bio Girls Representative or White Horse Hill Auto Tour or other group activity
Sunday Morning, May 15th
Time TBD
Breakfast
Committee Meetings
○ ByLaws
○ Plan of Action Committee
Wrap up by noon
2021 North Dakota State AAUW Meeting
Due to the Convid-19 Pandemic and the restrictions on group meetings the physical AAUW North Dakota State Meeting will be held via Zoom again this year on Saturday, March 6.  Please
The 2021 AAUW State meeting will focus on Virtual  "We Rise" events that will be held during the month of March. All AAUW members are invited to participate and learn more about how our legislative process works.
A legislative "Watch Party" is scheduled for Monday, March 8.  Details coming soon.

2019 AAUW North Dakota State Meeting
All AAUW members are invited to attend We Rise as part of our program for the 2019 State Meeting that will be held in Bismarck in conjunction with this event.  AAUW ND will follow the WE RISE schedule of activities as follows below with the exception that we will have our official annual meeting on Sunday, March 3, 5:00-7:00 PM in one of the conference rooms at the Ramada by Wyndham at 1400 Interchange Ave, Bismarck.
Sunday, March 3, 2019
1:00 PM – 5:00 PM – Advocacy Training @ Ramada, 1400 Interchange Ave, Bismarck
5:00 PM – 7:00 PM – AAUW NORTH DAKOTA ANNUAL MEETING (hotel conference room) Coffee and water only as food should be served at the social.
7:00 PM – 9:00 PM – Social @ Ramada, 1400 Interchange Ave, Bismarck.
Monday, March 4, 2019
8:00 AM – 3:30 PM – We Rise: Women Empowered Lobby Day @ ND State Capitol, 600 East Boulevard Avenue
Busing
Busing is available from Fargo with stops in Valley City and Jamestown to pick up attendees. The bus will leave Fargo on Sunday morning and return Monday after the event.
Sunday, March 3 Bus Schedule
7:45-8:00 am Fargo Pick Up @ Fargo Dome Parking Lot
9:00-9:15 Valley City Pick up @ Petro Serve Gas Station, 1020 8th Ave SW
9:45-10:00 Jamestown Pick up @ Buffalo Mall Parking Lot Near Perkins
11:30 Drop off Ramada 1400 Interchange Ave, Bismarck
Monday, March 4 Bus Schedule
7:45-8:00 pick up @ Ramada 1400 Interchange Ave, Bismarck
8:15 drop off @ ND State Capitol
3:45-4:00 pick up @ ND State Capitol
5:30 Jamestown Drop @ Buffalo Mall Parking Lot Near Perkins
6:00 Valley City Drop @ Petro Serve Gas Station, 1020 8th Ave SW
7:00 Fargo Drop @ Fargo Dome Parking Lot
Lodging
A block of rooms has been reserved at the Ramada, 1400 Interchange Ave, Bismarck. Thanks to the generosity of our partners, some complimentary shared hotel rooms will also be available for attendees.
Please preregister for the event at the We Rise Event page by following the link below:
If you desire bus transportation please sign up for that when you register. If you plan to stay overnight follow the directions above and reserve your room at the Ramada for the We Rise Event.  Cost of the room for the We Rise event are $89 per room plus tax & fees for a double queen bed room.

202018 Annual Meeting
April 13-14, – Jamestown, ND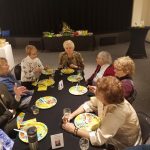 The 2018 annual meeting was held in Jamestown on April 13-14, 2018.  The meeting hosted by the Jamestown AAUW Affiliate began with a welcome social at The Jamestown Arts Center on April 13.  The social included table tents featuring a synopsis of women who were "first."
The meeting on April 14, held at The Legacy Center, featured a panel discussion made up of three women who were first in Stutsman County.  The panel, moderated by Joan Enderle, featured Polly Peterson, First Women President of the University of Jamestown; Rosalie Etherington,  First Women Superintendent of the ND State Hospital; and Judge Cherie L. Clark,  First Women Judge of the Southeast Judicial District.  They spoke of their experiences and how they have gotten where they are.
Members also were treated to a welcome address by Senator Heidi Heitkamp, a business meeting, and a brief officer training and an update on the Status of AAUW from the National AAUW office.
This year officers elected to the ND AAUW board include: Theresa Leiphon, State President (2nd term), Connie Lillijord, Secretary and Kathy Ashe, By-laws and Parliamentarian.
An awards ceremony was also held.  Renelle Bertsch, Wahpeton AAUW and Alexa Ducioame , Fargo-Moorhead both received the Women of Distinction Award, with LuAnn Stromme, Devils Lake receiving honorable mention.
The Fargo-Moorhead affiliate also received the Turtle Award for Diversity for their BrainSTEM program. The Devils Lake AAUW received the Prairie Rose Award for programming with their Miss Representation program and the Fargo-Moorhead AAUW received honorable mention for their book sale program.
++++++++++++++++++++++++++++++++++++++++++++++++++++++++++++++++++++++++++++++
"Let Your Power Flower – 2017 Annual Meeting Highlights
A big thank you to the Wahpeton Affiliate who hosted our 2017 Annual Meeting.  The meeting was fantastic.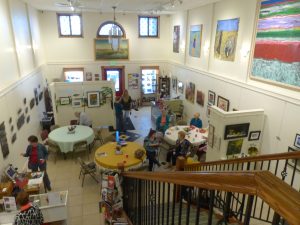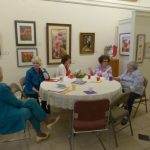 It started out with a social on Friday evening that was hosted by the Wahpeton affiliate at the Red Door Art Gallery in downtown Wahpeton.  Members enjoyed good food and conversation.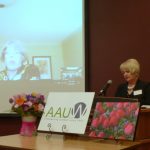 Saturday began with a continental breakfast at the ND State College of Science Red River Room in the Student Center. President Theresa Leiphon called the meeting to order and then inspired us all with an inspirational talk on how we can, "Let Our Power Flower."  Here is her opening statement, ""Let Your Power Flower." Members then heard from National AAUW Directors, Malinda Gaul, AAUW Director from Texas and AAUW Vice Chair, Alicia Hetman from California.  They gave wonderful information on the direction of AAUW for the future,  informed us of some very important BY-LAW changes that most be voted on by each member and gave us some insight on the new location change for the National office and how it better fits our needs.  This information was presented via Skype from California. Member were given lots of opportunities to get their questions answered. It was a great session and was appreciated by our members.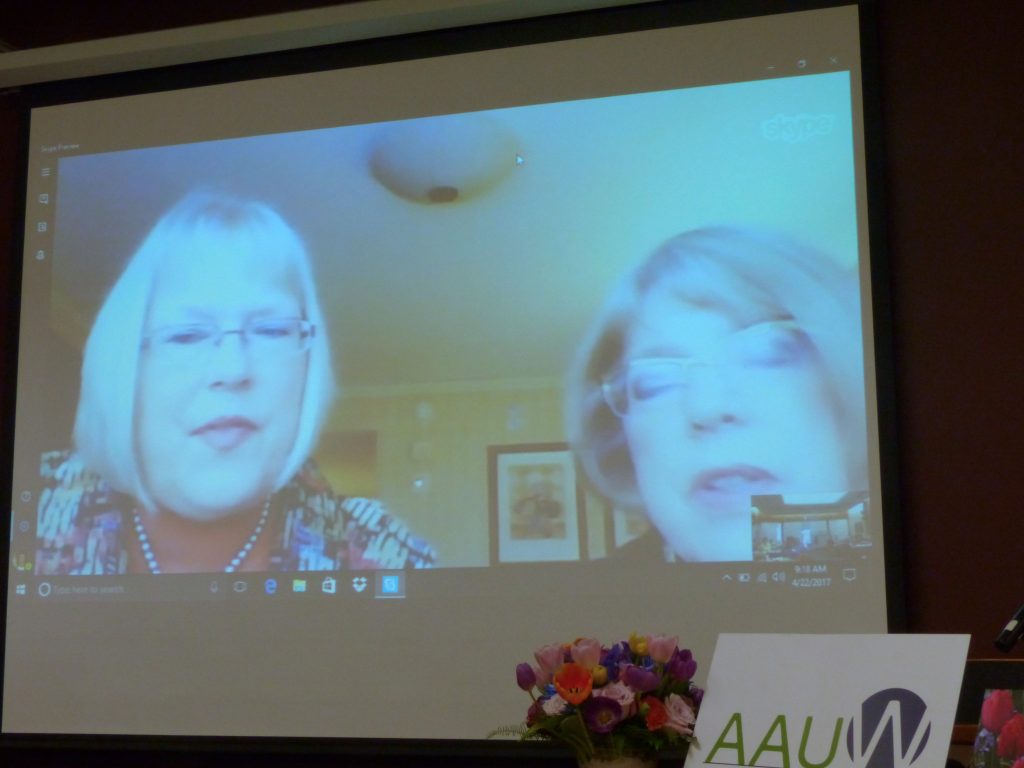 Next was the business meeting.  The most important item of business is that all members NEED to VOTE in the National Election.  Learn about your candidates for election to the Board or apply for appointment to the board; read up on the proposed by-laws amendments, the proposed public policy platform, and resolutions on this year's ballot in the Voter Guide; or learn how to turn your branch meeting into a polling place so everyone can vote! Read more.
Watch this video on why it is important to VOTE!
New board members for the upcoming 2017-2018 year were installed.  They are President Elect, Theresa Leiphon (Devils Lake), Von Da Lee Grandelan (Wahpeton) VP of Membership (second term) and Dr. Sharon Etemad (Devils Lake, Finance Chair).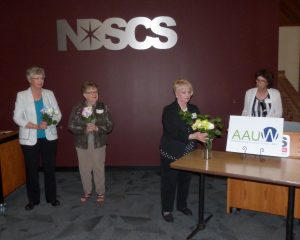 AAUW member Connie Hildebrand presented "A Republic, If You Can Keep It" which was a 15 minute fun advocacy training that really brought home our need to advocate.
The meeting also recognized winners of the "Women of Distinction" Award and the affiliates who won the "Prairie Rose" awards.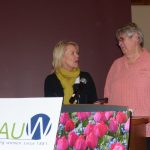 After the business was concluded we also were wowed by hearing from Alisa Mitkog, District 25 State Representative and Kathy Hogan District 21 State Representative and Assistant Minority Leader in the ND State Legislature.  We learned a lot about the current issues and how the legislature works.  They were well received.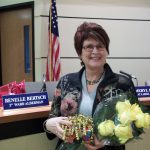 We also heard from Renee Bertsch who serves on the Wahpeton City Council and is also on the board of the ND Women's Network. She made us all reaffirm that we need to get involved in our communities and/or state by sitting on a board or committee. Women are vastly under represented across the state.  So please stand up and be heard and get on a board or committee in your community.  Yes you can!!!!!
Members also recognized Mary Craft (Jamestown)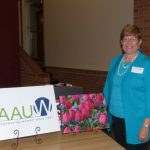 for winning the AAUW National Art contest and Virginia Goerger (Wahpeton) for being honored for celebrating 50 years of her business, "Virginia's Photos."  She was featured on the front page of the Wahpeton Daily News.
Members went home with many wonderful "Flower" door prizes" that will indeed help us remember to
"Let Our Power Flower"
We had a great group in attendance and it was a wonderful time in Wahpeton.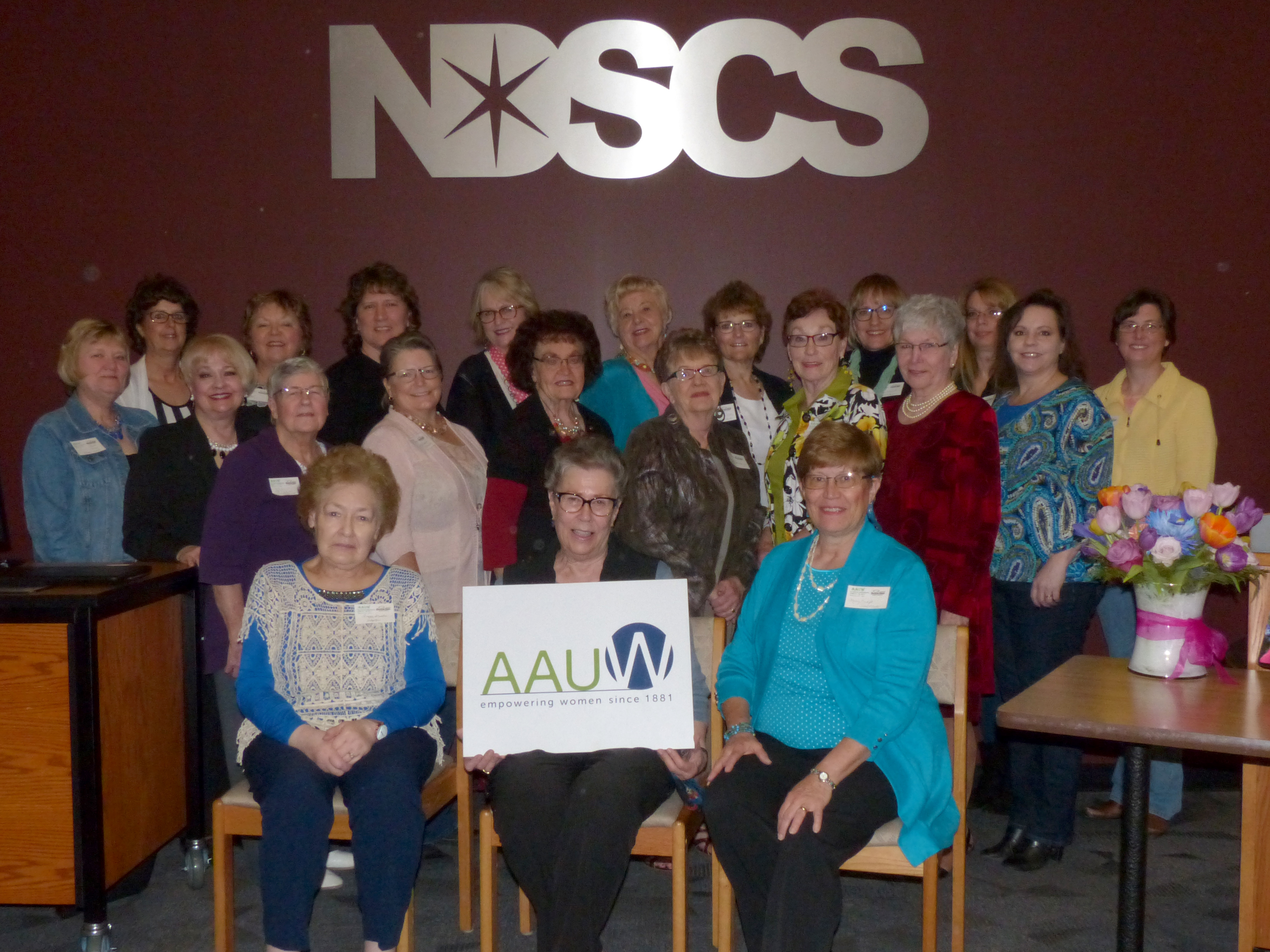 Highlights from the 2016 AAUW Annual meeting in Devils Lake.
Protecting Your Income Before and After Retirement
AAUW members attended the 2016 Annual meeting that was planned and hosted by the Devils Lake branch.  The event was wonderful.  It all started with a social hosted by branch members that included great food and wine at the home of branch president, Theresa Leiphon on April 22.
Saturday after a welcome breakfast the program started with a panel discussing protecting a women's income.  Since women in ND earn less than our male counterparts, every dollar counts.  This event will focus on how we can make the most of our income.   The panel was made up of Gayle Gette, Financial Literacy Outreach Coordinator, Lake Region State College; Jill Hanson, Financial adviser, Thrivent Financial; Karen Hausmann, Ramsey National Bank, and Howard Kossover, Social Security Administration, Grand Forks.  Next was a video conference with AAUW Grassroots Advocacy Manager, Elizabeth Holden, on the AAUW "Get Out The Vote" campaign.  Ms. Holden shared tips, ideas and resources for branches to use in their advocacy work.  You can listen to her entire presentation and the active discussion here.
We had a wonderful soup and sandwich wrap luncheon. During the luncheon we were updated on Human Trafficking issues by Erika Nelson, Human Trafficking Navigator, Minot Domestic Violence office.
Following lunch we had an update on AAUW from Malinda Gaul, National Board of Directors.  Malinda reinforced members on how AAUW has been and is continuing to Change the Climate for Women and Girls in courtrooms, in classrooms, on campuses, in boardrooms, in government and in our cities and towns across the country.  AAUW is turning a chilly climate for women and girls into a welcoming one!
The was followed by our annual meeting where the new officers for the 2016-2017 year starting July 1 were elected and installed. They are: Theresa Leiphon, State President; Connie Lillejord, secretary; Mary Craft, Funds Chair; and Kathy Ashe, By-Laws Chair.  They will join fellow board members Linda Steve, Finance Officer; Von Da Lee Grandalen, Membership Chair; Sandy Sidler, Public Policy; Molly McLain, CU Chair and Debbie Alber,
past president; along with the incoming branch presidents.   Special recognition was given to Bobbi Shreve for her service as our secretary and President Debbie Alber was crowned for her hard work and reign as our past president.
Awards were given out by recognizing the Dickinson and Grand Forks Branches for their outstanding project work with the Prairie Rose Award and our "AAUW ND Women of Distinction" was given to Maureen Kelly Jonason, Fargo-Moorhead branch.
It was a fun and rewarding meeting for all who attended. A special thanks to the Devils Lake Branch for hosting and planning this event and to our site hosts, Lake Region State College.