This page contains some resources that you may find useful.
Public Policy Chair Sandy Sidler recommended some resources to help branches with Public Policy.
To set up voter guides for the next election:
Voter Guide Templates
Head to Head Voter Issue Guides
From 2019-2020, #SuffrageSisters and #SuffraGents will celebrate the 100th anniversary of women's right to vote at events and programs across North Dakota!
Let us know about other #WomensVote100 centennial activities happening in your state, and we'll spread the word! Email your plans to staff@womensvote100.org.
Here are some resources branches can use for the suffrage centennial.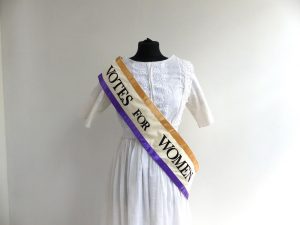 Fargo-Moorhead branch members ordered some sashes from Etsy. Click on the photo for the link to order.
2015-2016 Annual Meeting Reports
Branch Newsletters
Fargo-Moorhead
Jamestown Branch